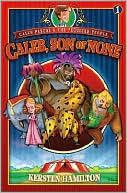 I like this book because it's an interesting story. It tells a really good Christian message of any bad situation can become good when God is in it.
The story is about a kid named Caleb who gets adopted by a father who's no good. But Caleb gets surrounded by lots of Christian people. After a while a carnival comes to town and Caleb ends up hiding out in the carnival.
He meets this old clown named Guillaume Pascal and he's a Christian who helps Caleb know God a little better. If I tell you any more, I'll end up giving away the ending, and I don't want to do that!
I recommend this book for ages 7 and up. I really want to get the other books in this series!
See you in the funny pages!
Book Kid