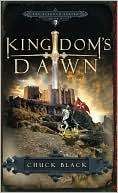 "Kingdom's Dawn" is really, really, really good! Chuck Black takes Old Testament Bible stories and puts them in a fantasy setting.
He writes about prophets as knights, and they can be dark knights or white knights. Kings can be spiritual figures from the Old Testament, and creatures represent things that happened to certain Bible characters.
For example, in the book, the main character gets put in the desert and ends up attacked by animals. This is about Moses after he ran off into the desert.
This book includes discussion questions and the author writes a section at the end that helps you understand the story from the Bible and how it fits into his story.
"Kingdom's Dawn" is the first book in this series, and I can't wait to get the rest of them and hope to give you more reviews.
I recommend this book to people twelve and up.
See you in the funny pages!
Book Kid