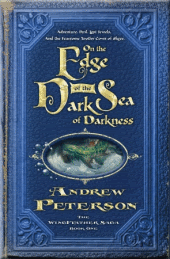 BOOK DESCRIPTION:
Once, in a cottage above the cliffs on the Dark Sea of Darkness, there lived three children and their trusty dog Nugget. Janner Igiby, his brother Tink, their crippled sister Leeli are gifted children as all children are, loved well by a noble mother and ex-pirate grandfather. But they will need all their gifts and all that love to survive the evil pursuit of the venomous Fangs of Dang who have crossed the dark sea to rule the land with malice and pursue the Igibys who hold the secret to the lost legend and jewels of good King Wingfeather of the Shining Isle of Anniera.
MY THOUGHTS:
I think this is a good book! It's like Chronicles of Narnia and Lord of the Rings, but in a different and better way. With new creatures, new characters, and people that have their own kinds of problems, I recommend this book for anyone who enjoys reading fantasy.
One of my favorite scenes was when the Igibys attacked Slarb the first time. I also like it when Peet the Sockman beat the snot out of Slarb. Another favorite thing about this book are that all the characters are very interesting. My favorite character was Janner, because he was always cool headed and whenever he did lose his cool, he tried to regain it as fast as he could.
Highly recommended for fantasy fiction fans.
See you in the funny pages!
Book Kid