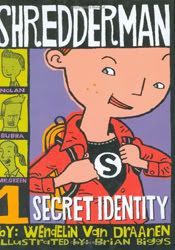 OK, this is not the movie. This is the book. "Shredderman" is a great book. Better than the movie.
"Shredderman" is about a guy named Nolan Byrd. He is tired of being pushed around by Bubba Bixby. When he takes things into his own hands, he becomes Shredderman, a cybernetic superhero.
With the help of his teacher Mr.Green he will faces his fears.
This book is a good book. It is about facing your fears, especially facing bullies. Shredderman rocks!
I give Shredderman: Secret Identity by Wendelin Van Draanen a 5 out of 5. I recommend it to ages 10 and up.
See you in the funny pages.
Book Kid