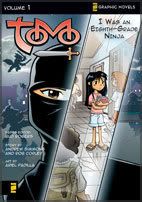 I was looking for a "different" kind of Japanese manga. I stumbled onto "Tomo", which is about a girl that is from Japan but lives in the US with her grandfather in San Francisco.
She is trained in martial arts, and her grandfather is a martial arts master. Creatures from another world are after a sword. Tomo has the sword. But, who is Tomo? You'll just have to read it!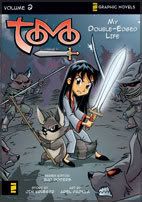 The second book is called "My Double-Edged Life". In this one we find out more about the creatures from the first book, and how Tomo is able to protect the sword. But, again...who is Tomo?
You have to read them to find out!!
I recommend this series to readers who like fantasy/action manga and ages 10 and up. I give "Tomo" four out of five bookmarks because the books have lots of good stuff in them, no bad stuff, and lots of action, which I like!
See you in the funny pages!
Book Kid